Veteran
Posts: 175
Joined: Wed Jun 21, 2006 6:58 pm
---
Veteran
Posts: 175
Joined: Wed Jun 21, 2006 6:58 pm
Luckily, I will soon have this to shoot them all down to size!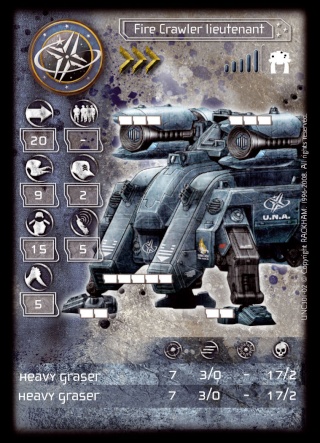 Last edited by
CleverName
on Fri Aug 15, 2008 10:28 am, edited 1 time in total.
---
Chapter Master
Posts: 534
Joined: Thu Jul 20, 2006 7:47 pm
man those guys are big. THey look cool too, except i got one small problem with the cogs. Are they machine, living creatures, or just heavilly cybernetic wingless and 4 limbed mantis like beings.

Ya know, these guys might actually get me to start playing ak-43. THey remind me sort of like tau in they look advanced. Also i like the machine walker type legs they got. Also because i am a painter at heart, with them looking so cool and so machine like, i could see myself probably doing an easy and simple repaint. I guess that depends on what they look like officially when they come prepainted.

Nice to see a 5th army. That was the one factor keeping me from taking up the game, cause of limited forces. Also i wasn't impressed with the real live models once i saw them in the flesh. THe pics they show of the prepainted look awesome, the ones you buy, not so much.
Still its a cool game and it would be nice to do something other than 40k. Guess these wont be out till next year sometime right.
---
---
Veteran
Posts: 175
Joined: Wed Jun 21, 2006 6:58 pm
Yuri wrote:Dude! That Fire Crawler is awesome! How many points for that thing?
It's like 775 points!
Six shots, 17 penetration and 2 wounds -- holy sheep dip!
Last edited by
CleverName
on Thu Jul 31, 2008 1:36 pm, edited 1 time in total.
---
Veteran
Posts: 175
Joined: Wed Jun 21, 2006 6:58 pm
Morbidangel:
1) The Cogs are a confederation of 2-3 races, but that's all I know. We have never seen art of what they look like out of "uniform."
2) Folks who don't like the paint jobs refer to the minis as pre-primed, b/c normal hobby paints do well over the prepaints. (See below for some examples of repainted and modded minis.)
3) The first Cog units will probably be available ~ December, but they only will be released 1-2 units per month, we will probably have to wait a year to see how they actually play as an army. There are 8 planned factions for AT-43. Next year are the Krygs -- a race that (in the backstory) the Karmen almost eliminated for their Therian masters.
---
Tactical Marine
Posts: 76
Joined: Wed Aug 30, 2006 5:28 pm
Those are some nicely sculpted Cogs. Cant wait till they come out.
---
Chapter Master
Posts: 534
Joined: Thu Jul 20, 2006 7:47 pm
december..sweet that is fine for me. after the first of the year i can probably invest in them, and buy the few units they have and slowly built them. I am more of a painter than a player anyways, since i don't get to play as much, and the next year is gonna be really much harder to get games in now with my family time being spent more with the kids. I got 3 boys and now a little girl, so its gonna be harder. Also i might use at-43 to try to get my oldest son who will be 8 in janurary into the strategy type games. Hes a thinker, and wont be much into playing. So i need to try to get him into the hobby if at all possible somehow.
---